Opinion - Caregiving: Not just a personal issue but also a legislative one
Thursday December 10, 2015
Nancy LeaMond, Executive Vice President for AARP's Community, State and National Affairs
Huffington Post - Sometimes the pressing issues that are affecting millions of American families are loud; front and center in the public dialogue. Other times, they are quiet; right in front of us, flying under the radar -- like family caregiving, an issue that will touch almost everyone in the country.
Right now, about 40 million Americans, like you and me, are assisting older parents, spouses, partners, children with disabilities, other family members and friends, helping them remain in their own homes and communities - where they want to be.
These family caregivers are the meal-givers, the medicine-givers, the respect-givers. Every day they give of themselves to help their loved ones in a variety of ways, from bathing and dressing, making meals, providing transportation, to assisting with finances, managing medications, and much more. Some provide care a few hours a week, others are responsible 24/7 -- and often they can't even take a break.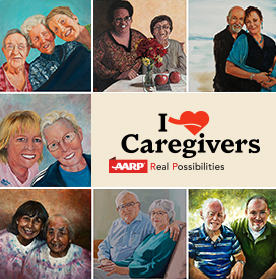 And while this is a common experience for the nearly half of family caregivers who are in the so-called "sandwich generation," it affects people of all ages. Almost one in 10 family caregivers are age 75 and older and about one out of every four is a Millennial. 

Although family caregiving is a big issue for the country and poised to become even more significant with the aging of the Boomer population, it is also an incrediblypersonal issue. In some ways, caregiving is a wonderful gift for families, an opportunity to give back, but it can also be incredibly challenging.
AARP has heard this message loud and clear directly from millions of family caregivers across the country, during community programs, phone calls, and through our story-telling initiative, I Heart Caregivers. Over and over again, we hear their compelling experiences of hope, love, dedication and perseverance.
But, while every story is unique, a common theme emerges: Almost every single family caregiver says they need a little bit of help and resources along the way to make their big responsibilities just a little bit easier. They also expect action from elected officials. In fact, a poll released in March this year found that 77 percent of registered voters age 45 and older think it is important that Congress make it a priority to improve resources available to family caregivers.
Yes, caregiving is a deeply personal issue and a family issue, but now it is rising quickly as a legislative issue in communities, state legislatures across the country, and here in Washington, D.C.
State legislatures are already stepping up. This year alone, 30 states have passed legislation to help almost 27 million family caregivers get needed training, more flexibility in the workplace, and the opportunity take a hard-earned break every now and then.
Capitol Hill has also taken notice, and more importantly, taken action. Just this week, the U.S. Senate passed the bipartisan Recognize, Assist, Include, Support, and Engage (RAISE) Family Caregivers Act. The common-sense legislation was introduced by Senators Susan Collins (R-ME) and Tammy Baldwin (D-WI) and would require the development of a national strategy to recognize and support family caregivers.
Passage of this bipartisan legislation is an important step forward. AARP sincerely thanks Senators Collins and Baldwin for their leadership in the Senate and we thank Representatives Gregg Harper (R-MS) and Kathy Castor (D-FL) for introducing the RAISE Act in the House. Now that the Senate has passed the RAISE Family Caregivers Act, AARP urges the U.S. House to act.
Millions of family caregivers are undertaking the rewarding, difficult and personal challenge of caring for their loved ones. And, they could use some support. Thankfully, we are seeing action as this quiet but important issue rises as a legislative priority with bipartisan support in communities across the country and Washington, D.C.
http://www.huffingtonpost.com/nancy-leamond/caregiving-legislature_b_8772864.html